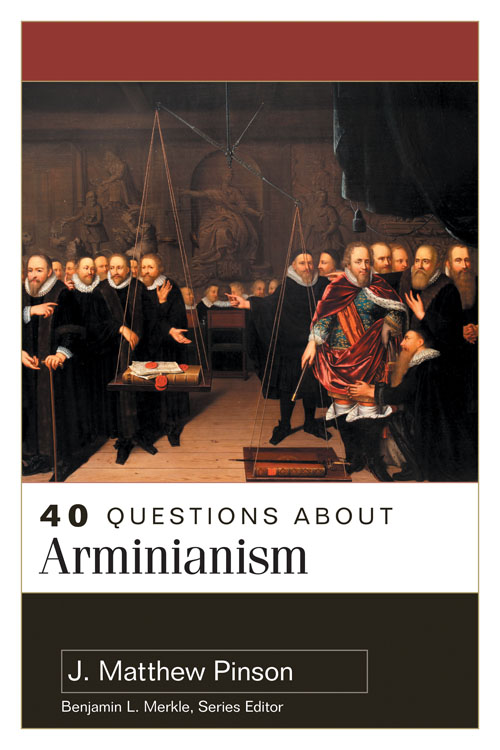 UPDATE: After some discussion and review, I have re-read the book and have a new review with a much different outlook. Please know that below is my original review and no longer my stance on the book. My new review is available at this link.
The soteriological battles of Arminianism versus Calvinism have been raging since the 16th Century. In reality, they have been going longer than that, but the two positions seem to focus on John Calvin and Jacob Arminius. J. Matthew Pinson's new book seeks to answer 40 Questions About Arminianism.
For a Calvinist, such as myself, I was excited to read a book that claims to answer questions about Arminianism. I was hoping to find something new that I did not know and to find solid explanations for the position of the opposing theological viewpoint. If that is what you are seeking, this book is not for you.
The back cover of the book claims that, "J. Matthew Pinson combines solid historical research with biblical and doctrinal position to address the following questions and more…" But this is hardly the case. Instead, the book is just a hit piece on caricatures of Calvinism. Many things are taken out of context and twisted in order to prop up Pinson's points. Yes, there are some speckling of Arminian positions in the book, but just as much of the book focuses on Calvinism as it does Arminianism.
But the idea that the book speaks with historical and doctrinal precision is laughable at best. No greater example of this can be seen than on page 120 of the paperback edition. Pinson writes, "Consistent Calvinists get so far from the consensus of the church catholic on this doctrine that many Calvinists do not hold to limited atonement." This is a quotation that is made as a statement of fact. But Pinson writes in the footnote, "While I have no hard data on this…" Anyone who makes a statement of fact and then relates in a footnote that there is no evidence for the statement of fact does not deserve to be taken seriously in the arena in which they debate.
Many other Scripture references are taken out of context in order to prove the Arminian viewpoint and downplay Calvinism's doctrinal accuracy. One clear example of this is on his pointing to John 12:32 to say that Christ will draw all mean, meaning individuals, to himself. But a clear look at the context of this passage shows that he is referring to people groups, Jew and Gentile, and not individuals.
As stated before, if you are looking for a book that explains Arminian theology and letting that stand on its own, this is not a book for you. I do not recommend this resource to any diligent student of the Word for reasons put forth and generously give this book one out of five stars.
I was provided a free copy of the book by the publisher in exchange for a fair and honest review.